Procedure
Proceed as follows to add an assessmentQ certificate:
Select Reporting in the main menu of assessmentQ .
Click

Certification

in the navigation bar on the left-hand side of your screen.
Result: The list of certificates is displayed.
Click + Add in the upper right of the module.
Fill in the Add certificate form: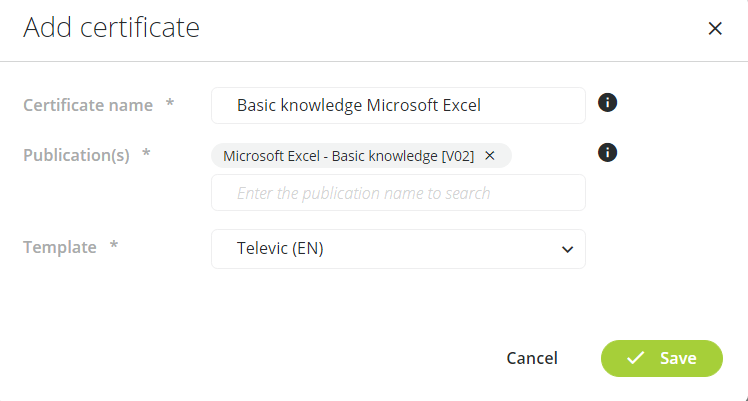 Enter the certificate name.

Note: This name will be shown on the certificate.

Add one or more assignment(s) for which this certificate applies.

Notes

The candidates will receive a certificate when they successfully complete one of these assignments.
You can use one and the same assignment in one certificate only. When you delete this certificate, you can use the assignment again in a new certificate.
You cannot add SCORM assignments.

Select a template.

Note: The language on the certificate depends on the template used for the assignment. To receive a template for your organization, contact Televic Education via support@televic-education.com

Click Save.
Result: The new certificate is added to the certificates overview.