Background
Edumatic provides comprehensive online reporting, including advanced reporting and item analysis. In this Getting Started tutorial we focus only on the Standard reporting, however. 
Reporting on multiple levels
In the standard reporting you can generate reports on the following levels:
Publication
Schedule
User
Group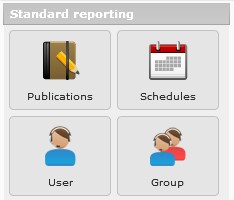 Procedure
To generate a report for one or more publications: 
Click on the Publications tab in the Standard reporting module.
Select one or more publications for which you want to generate a report and click Generate report.
Result: You see the total score for the selected publication(s).


Click  before the publication name, to see the users' total score. 

Click before a user's name, to see the user's session results. 

Hover over a user name and click the arrow next to the user's name, to see the user's details for all sessions. 

Click on a user session to see the content and the user's answers.
Click Print at the bottom right to print the user's session. 
Tip: For each report it is possible to export the data to CSV or to PDF. The PDF reports can be personalized with your own logo.