In this article, you will find out what's new in version 0.9.2 of translationQ.
The new features and improvements in this version include:
Let's explore these features one by one.
Managing source texts
The Source Texts module contains several improvements and new features allowing easier management:
Drag and drop source texts in folders: you can now organise your source files by dragging and dropping them in folders. 
Source language visualised: the overview table with the source texts contains a Source language column where you can now clearly see the selected source language for every source text.
Buttons to add, delete, merge and split source segments: you can now add, delete, merge and split source segments not only by means of Enter and Backspace, but also by means of clear buttons that appear when you hover over a segment.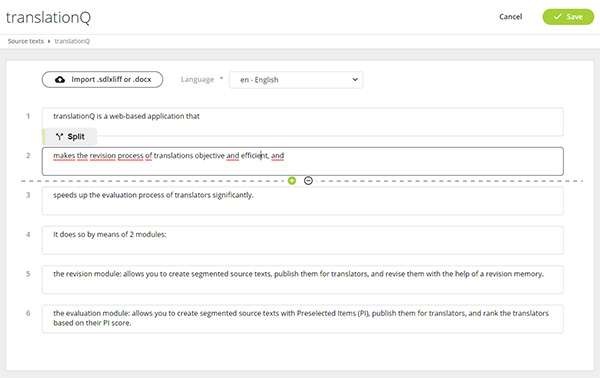 Reactivating deleted users
When you delete a user from the Administration module in translationQ, you were not able to reactivate him before. Now you can: just start adding a new user by typing his e-mail address, and if the user already exists, translationQ will ask if you want to reactivate him.

New Translation Assignments module
translationQ now contains a new Translation Assignments module. There you get a clear overview of all the assignments you have already made available for your translators. Further, you can add new translation assignments from within this module, edit the properties of existing assignments, and you get a preview of the assignment your translators will get. 
This new module will further improve the usability of translationQ.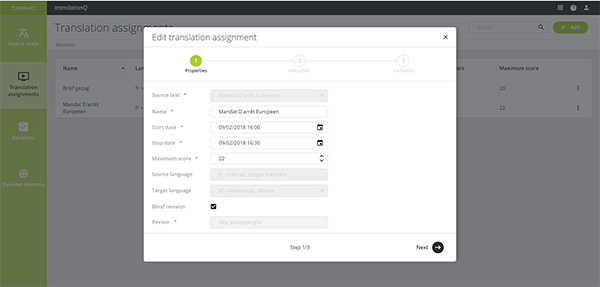 Overwriting the automatic score for a translation
In the Revision module, you can now overwrite the automatic score for a translator. Every time a revisor overwrites a certain score, this change is tracked and remains visible. This gives you a clear trace of every change, and of the reasons why a score was changed.