In this article, you will find out what's new in version 1.0 of translationQ.
The new features and improvements in this version include:
Let's explore these features one by one.
Custom error categories
A much-requested feature in translationQ is the possibility to customise the error categories. This is now possible in translationQ 1.0 on 2 levels:
As an administrator, you can enable or disable the TAUS DQF error categories that you want to use, and overwrite the category label if required.


Warning: Enabling, disabling and changing the label of an error category will have an impact for all revisors in your organisation: for instance, revisors will no longer be able to use the error categories you disabled as an administrator.

As a revisor, you can link error categories to the revision memory or memories you use. Each revision memory can use different error categories.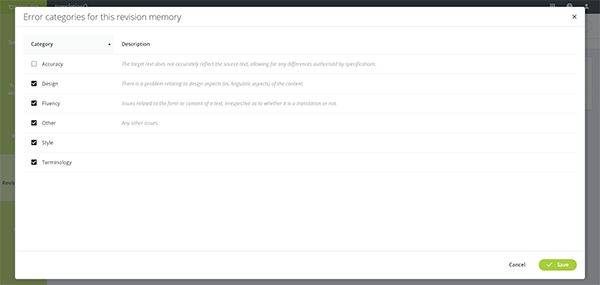 Revisor reporting and insights
translationQ 1.0 comes with a brand-new Reporting module. You can find both user reports and assignments reports there.
User reports: show the performance of an individual translator
Assignment reports: show the performance of a group of translators that had to complete a specific translation assignment.
As a revisor, you automatically have access to all reports for your users and assignments. There is also a new "Analyst" role who gets access to all reports and results in your organisation.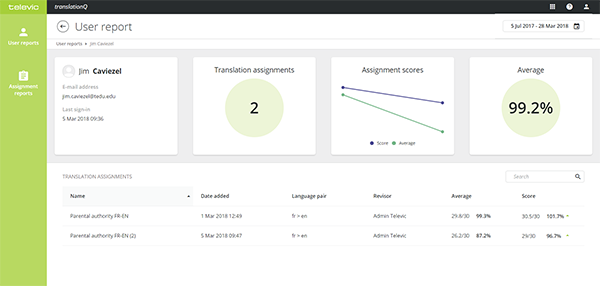 Batch import of Word documents
When you already have existing translations, you can now import them in batch in translationQ and immediately start your revision. During the import process, you can match translators with the imported translations, so the results are available for the correct translator. You can also update the automatic segmentation of the imported Word documents, to make sure that the segmentation is correct for the revision process.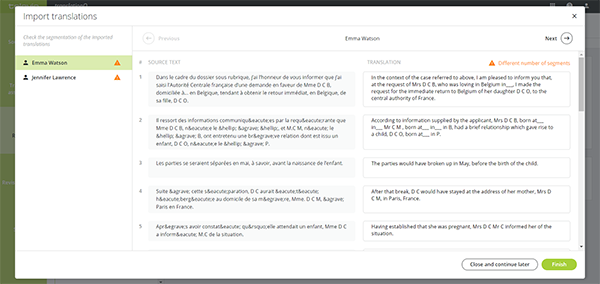 Working with CAT tools
In translationQ 1.0, your translators can now also do the actual translation in their own CAT tool: they can export a translation assignment (source text) as an .xlf file, translate in their own CAT tool, and import and .xlf, .sdlxlifff, .xliff or .docx file in translationQ again.
Check the supported file formats
Progress indication for revised translations
As a revisor, you want to know where you left off in the revision process, so you can resume the revision with the correct translation. You can now do that by changing the status of a translation that you are revising from New to In progress and then to Completed. This way, you get a clear overview of your revision progress.
Note: When you change the status of an individual translation to Completed, new errors will still be detected there and suggested to you as a revisor. It is only when you complete the entire revision that no new errors will be detected anymore.
So don't confuse a Completed translation (which is your progress indication) with a Completed revision (where no additional errors can be applied anymore)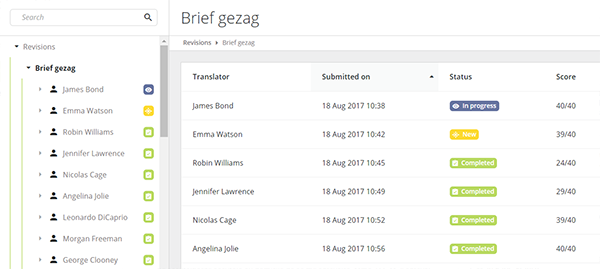 Choose whether or not translators can see their report
When you create an assignment, you can choose whether or not the translators can see their report when the revision is marked as Completed. 
You can still change this setting when the revision is already completed, so you control exactly when the translators can see their report. 
See the error details easily for every error
When you are revising a translation, and errors are already marked in your translation, you can see the error detail in the Error Overview under the translation. However, in translationQ 1.0 you can now also click on the error and see a popup with all error details. This way, you have an easier overview of all detected errors, their related scores and feedback.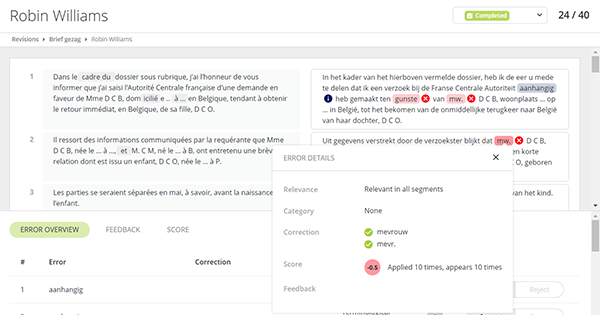 See all content in your organisation as administrator
The permissions related to every role in translationQ have been completely redesigned to allow for more flexibility: do you want to allow one of your colleagues to create a translation assignment, but not revise it? Or do you create the translation assignments, and want to give an external revisor only the permission to revise assignments? These and dozens of extra scenarios are now supported with the flexible permissions in translationQ 1.0.
A very important improvement resulting from this redesign is that administrator see and can manage all soource texts, translation assignments, revisions, revision memories, and reports in their organisation. They have access to all the content and can keep an eye on what's happening easily.
Add your avatar and update your user profile
As a translationQ user, you can now upload your avatar and edit your profile, including changing your own password easily.