Background
Revise text is an item type you can use to let students identify, correct and optionally categorize errors:
in a translation, or
in a monolingual text.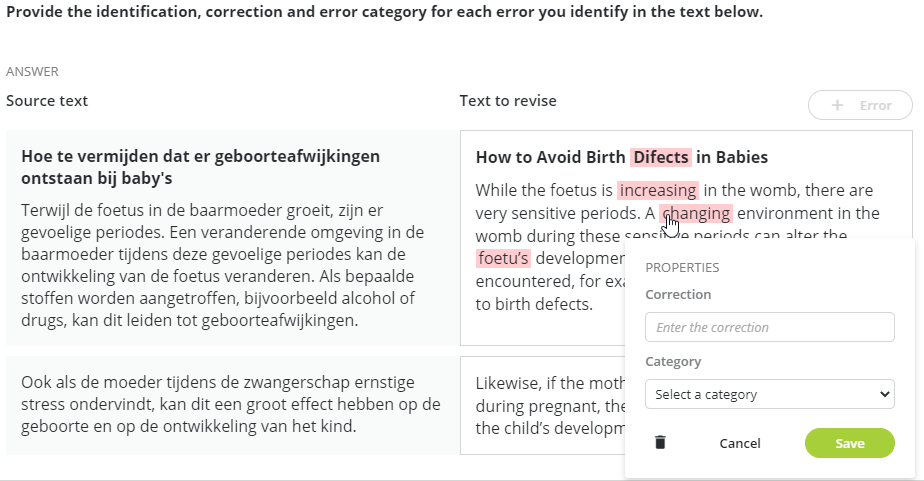 Procedure
Proceed as follows to create a Revise Text question:
Click + Add in the folder where you want to add the new item.
Select Revise text.
Result: The authoring screen of the item opens.
Enter the item name in the breadcrumb trail at the top.
Click in the content block and enter the instructions.
Click Add Block if you want to add an additional content block.
Click in the Interaction block if you want to:

add a source text
add a text to revise
add a text segment. Text segments are a great way to make sure paragraphs are properly aligned in the source text and text to revise.

Add specific details in the Block tab:

change the writing direction (1)
add error categories (2)
disable/enable the source text (3)


Optionally, add one or more errors in the interaction block 

Select a word or phrase and click on + Error
add the correction, category, and distance (how many extra words can be selected next to the error, so it is still recognized as being correctly identified?)

Item specific options
When you open the Item tab, you can change a Revise text item into an Information page:

Tip:
Using categories is optional. If you don't define categories for your item, the user will not be prompted to select a category in the assessmentQ player.
Categories are stored per item. If you want to reuse the same categories for multiple items, it is recommended to create one item with the correct categories and duplicate it for all new items you want to create with the same categories. 
More information