Background
Click on image allows you to test your users' knowledge by presenting maps, diagrams, technical schemes, software, etc. and let them indicate one or more parts on this image.
See the example below: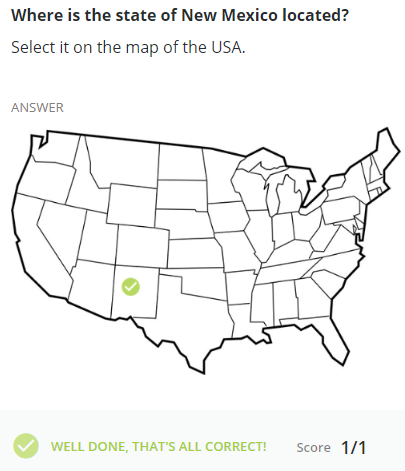 Procedure
Proceed as follows to create/change a Click on image question:
Click + Add in the folder where you want to add the new item.
Select Click on image.
Result: The authoring screen of the item opens.
Enter the item name in the breadcrumb trail at the top.
Click in the content block and enter the instructions.
Click Add Block if you want to add an additional content block.
Click in the Interaction block to add your image
Add one or more click zones. Choose a circle, rectangle or create your own form.

Tip:
Responsiveness: to make sure the image and click zones work on every device, allow assessmentQ to resize the image. You can find this option in the block-tab.

Limiting the number of clicks: the author can define how many times the user can click on the image. This is also a great way of preventing the user from clicking everywhere and getting all marks when the scoring mechanism Score per click zone is used.

Item specific options
When you open the Item tab, you can change a Click on image item into an information page: