Procedure
Proceed as follows to create/edit a Multiple choice:
Select Creation in the central menu of assessmentQ.
Go to the Items submodule.
Go to the folder in which you want to add your item
Click to add an item.
Select Multiple choice.
Result: The content pane of the item is opened.
Enter the item name in the breadcrumb at the top.
Click in the content block and fill in the instruction.

Click + Add block if you want to add additional content blocks.
Click in the interaction block and enter the choices:

Click + Choice if you want to add additional choices.
Select the radio button of the correct choice.


Click Preview to try out your item.
Beta feature: In addition to the regular functionalities, it's also possible to use a beta functionality which automatically creates distractors based on the question and correct answer. This feature needs to be enabled by the administrator (More information).
After entering the question and the correct answer, the author can click

. assessmentQ will generate a number of distractors and indicate the estimated accuracy of the distractors. The author can select the distractors he wants to use, and they will be added automatically to the question.
Item specific options
When you open the Item tab, you can change the item type Multiple choice to: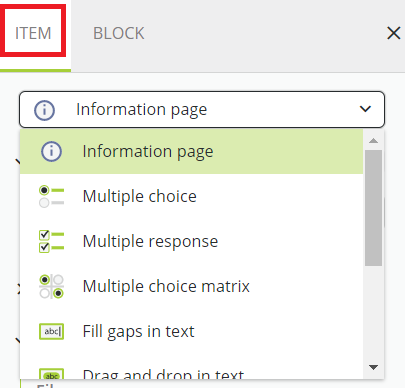 When you click in the content block and open the Block tab, you can position the choices horizontally or vertically.

Changing the order of choices
See Changing the choices order in Multiple choice and Multiple response.
Answer specific feedback
Next to the general feedback, you can optionally add feedback for each answer separately.
Click on the choice you want to add feedback to.
Result: the tab Choice will open.
Add feedback When correct.
When the choice is correctly selected or not selected, this feedback will appear.
Add feedback When wrong.
When the choice is wrongly selected or not selected, this feedback will appear.
Additional options
Learn more about adding assets, adding feedback, selecting the correct scoring mechanism etc. in the section The assessmentQ itembank.