Background
An information page is not a question or an exercise. It is a page containing introductory or theoretical content.
Procedure
Proceed as follows to create an information page:
Click in the folder in which you want to add your item.
Select Information page.
Enter the item name in the breadcrumb at the top.
Click in the content block and fill in the required content.
Item specific option
When you open the tab Item, you can change the item type Information page to any other assessmentQ item type: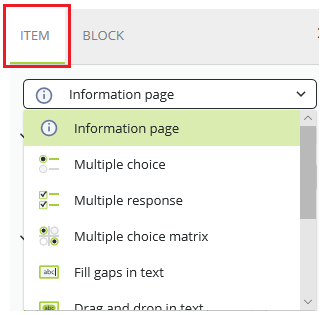 Additional options
Learn more about adding assets in the section The assessmentQ itembank.