Background
In the assessmentQ backoffice, items are created in the Items submodule. Items is a submodule in the Authoring module. More information.
You can create more than 24 item types in the assessmentQ backoffice. A couple examples are: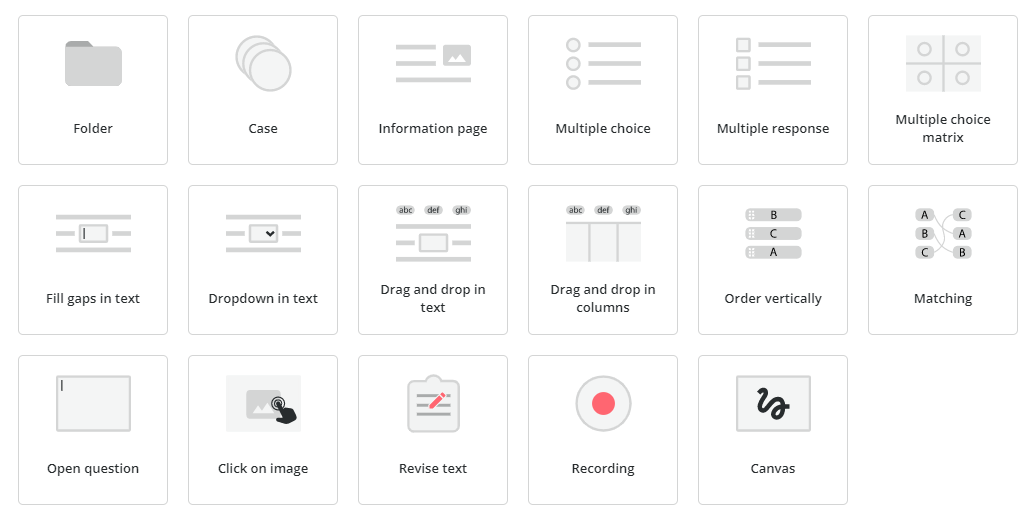 The procedure below describes the creation of a multiple choice item in the assessmentQ backoffice. The other assessmentQ item types are created in, more or less, the same way.
Procedure
Proceed as follows to create a new item:
Select Authoring in the central menu of assessmentQ .

Result: You're directly redirected to the first submodule. The Items submodule.
Create a new folder by clicking on the button or open a folder where you want to add your item.
Click at the top right.
Select the item type of your choice.
Result: The content pane is opened.

Enter the name

(1)

of your item in the breadcrumb at the top. Click outside the name field to confirm. Everything is saved automatically.
Enter the instruction:

Click in the content block

(2)

.

Result: The text editor is opened. You can now enter text, images, video, etc. More information.

Click Add block to add one or more additional content blocks.
The advantage of working with multiple content blocks is that you can reposition them next to each other. More information.


Click in the interaction block (3) to enter your answers.

Note: The procedure to enter your answers differs depending on the item type you selected. More information.

Additionally, add feedback (4) or change some settings (5) in the right pane.
Click Preview to try out your item.
If your item is ready to be used in an assignment, change the status to Approved in the Item tab (5).
Next step