In these release notes
assessmentQ 2.1 contains the following new features and improvements:
New Assignment Reports module
The Reporting module for assignments (formerly called Publications) is now available in assessmentQ. This is a first step towards extensive and comprehensive reporting in assessmentQ.
The Assignment Reports module contains a detailed progress and score report and offers various export possibilities.
A useful summary page gives you a quick status update on the progress of your assignment.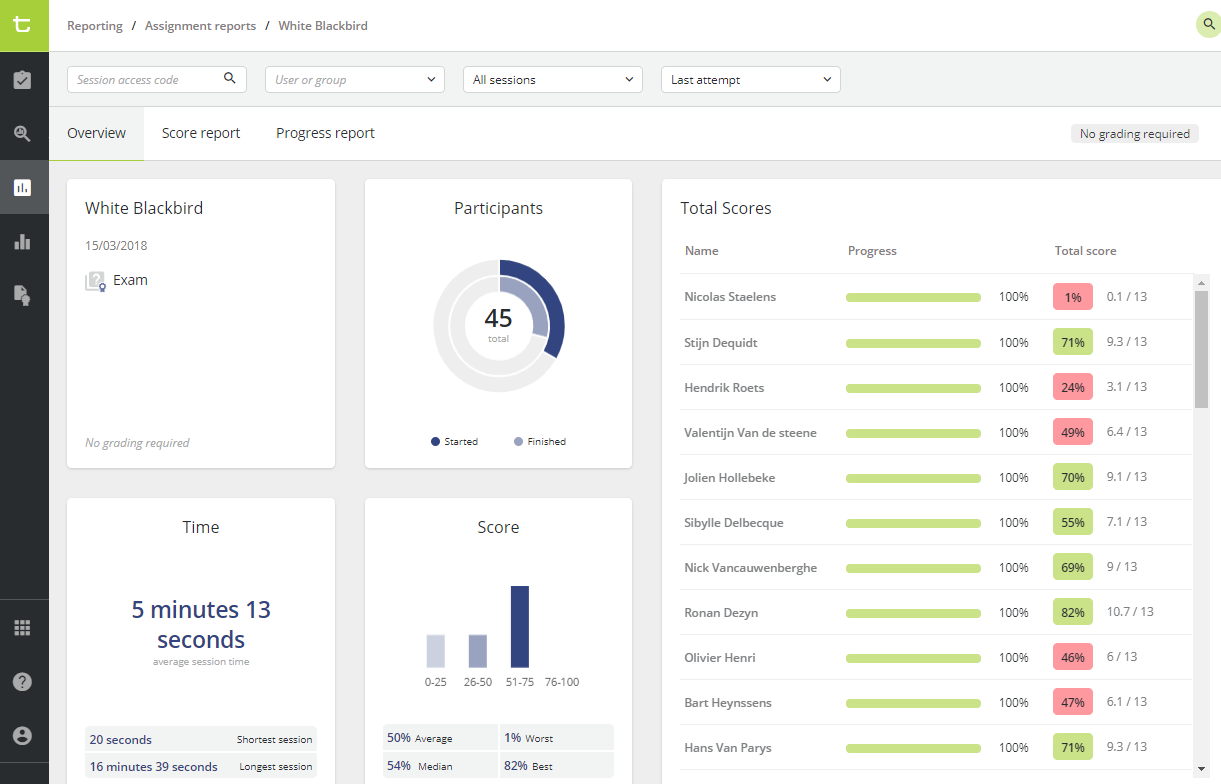 New Monitoring module for live exam monitoring
As a supervisor of large-scale high-stakes exams, you want to know what is going on during the exam, if there are any issues, and you want to have the tools to intervene and let the exams finish smoothly. That is exactly what the new Monitoring module does.

New Analysis module
As a coach, you can see all questions of your assignment in the Analysis module and you see per question how many participants answered it correctly, incorrectly or partially correct.

You can decide to eliminate or neutralise questions in your assignment after it has been taken by the participants. Typically, this will happen when a question contained incorrect or outdated content.
When a question is eliminated or neutralised, the participant will no longer see it when he reviews his assignment, but he will see a message saying that the item was neutralised or eliminated.
Questions overview in the player
Until today, when finishing an assignment, the participants did not see which questions were unanswered or flagged.
To make it more clear to the participants what the status of their assignment is when they want to submit, they can see a popup when they click Finish. This popup shows which questions are:
Answered
Seen but not answered
Not seen and not answered
Flagged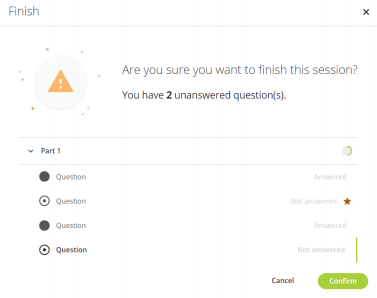 Self-registration with group code
Starting from assessmentQ 2.1 a new self-registration module is available. Thanks to the self-registration, your administrative work is reduced to a minimum. You only have to provide your customer with a group code and the registration is done by the end-users themselves.
The self-registration with group code is typically used to make schedules available to external customers. You give your external customer his own group code and you decide which schedules this external customer can see by linking the corresponding group to your schedules.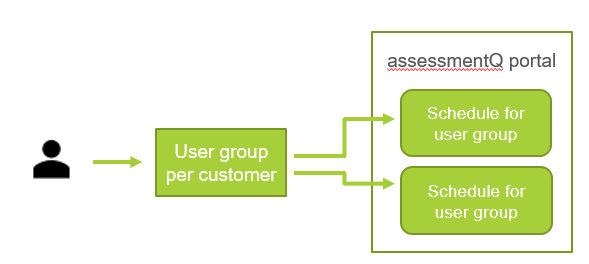 Possibility to overwrite the score of fill gaps questions
In a fill gaps in text item, the author has to correctly predict all the correct answers and variants of these answers for a certain gap. If a participant uses an answer that is correct but not foreseen by the author, it will be scored as incorrect. Starting form assessmentQ 2.1, a grader can now allow additional answers afterward.
Possibility to hide the Forgot password link
In case of high-stakes exams, you may want to define the participants' passwords yourself and communicate the password at the start of the exam. In this case, participants should not be able to retrieve or change their password via the sign in page.
Cornerstone integration
Cornerstone is a well-known globally used LMS.
The integration between assessmentQ and Cornerstone allows you to push an assessmentQ assignment to the Cornerstone catalogue. Once the assignment is added to the Cornerstone catalogue, you can schedule it on your Cornerstone platform. When a user completes the assignment, the results are returned to Cornerstone.
Other changes
Session review
Starting from assessmentQ 2.1 a session can only be reviewed when it has been finished. This only applies to exam sessions (not to exercise sessions). When you try to review an exam when it is not finished yet, you will get a clear error message.
Adding time from within the player
In assessmentQ 2.1 it is no longer possible for an administrator to log in to the participant's session in the player to give extra time. This functionality is now available in the Monitoring module. In the Monitoring you can give extra time, not only to one candidate, but also to several or all candidates at once.
End of life IE11
Starting from assessmentQ 2.1, the assessmentQ player no longer supports IE11.
Other modern browsers such as Chrome, Firefox, Edge, and Safari remain supported and are recommended.