Procedure
Proceed as follows to create/edit a Dropdown in text:
Click in the folder in which you want to add your item.
Select Dropdown in text.
Result: The content pane of the item is opened.
Enter the item name in the breadcrumb at the top.
Select + Add block to add a content block and fill in your instruction.
Enter the text with dropdowns in the answer block. To add a text gap, click on the desired location for the gap and select + Dropdown.

Select the dropdown and enter the possible answer(s) in the Dropdown tab in the Properties pane. Indicate which answer is correct and which answers are incorrect.

If you want to add:

feedback to a given answer in the dropdown, click on the feedback icon next to the answer.

feedback or a hint to the entire dropdown, open Dropdown hint and feedback:


If you want to:

duplicate your dropdown, click on .
delete your dropdown, click on .
maneuver between the different dropdown zones, click on the arrows at the bottom right


Click Preview to try out your item.
Item specific options
When you open the tab Item, you can change the item type Dropdown in text to: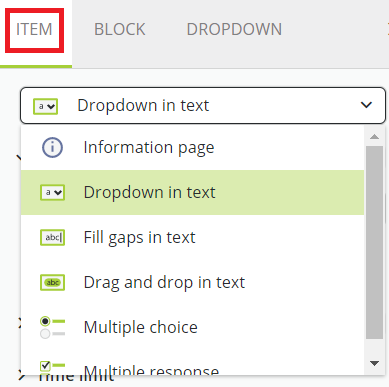 When you open the answer block and select the tab Block, you can shuffle all the answers in the dropdown (except the empty answer).
By default, the answers in a dropdown are not shuffled: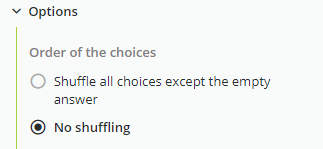 Advanced options
By default an empty answer is added as initial value to a dropdown. This empty answer is by default incorrect.
When you select a dropdown in the answer block, you can:
uncheck this option if you don't want an empty answer to be added to the dropdown.
change the empty answer to correct and add feedback.

change the initial value that has to be displayed in the dropdown.

Additional options
Learn more about adding assets, adding feedback, selecting the correct scoring mechanism etc. in the section The assesmentQ item bank.