Procedure
Proceed as follows to create/edit an Order vertically:
Click in the folder in which you want to add your item.
Select Order vertically.
Result: The content pane of the item is opened.
Enter the item name in the breadcrumb at the top.
Click in the content block and fill in your instruction.
Optionally, add a title and / or image in the column header.
Enter the elements in the correct order to the column.


Click to add additional elements.
Click on an element to add feedback to this element.

If you want to:

add an extra column, click on
delete a column, click on
maneuver between the different elements, click the arrows at the bottom right:


Click Preview to try out your item.
Note
: In
Order vertically
it is not possible to fix the order of the elements in the first column. If you want to use this option, you can use the item type
Matching
.
Item specific options
When you open the tab Item, you can change the item Order vertically to: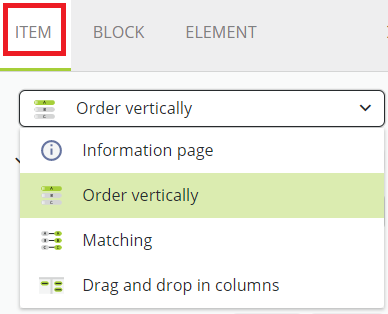 When you open the answer block and select the tab Block, you can:
hide the column headers:

customize the width of the columns:

autoscale

the images in the column headers and allow

zooming

in the player




(only if the picture is larger 500 pixels, otherwise the

Zoom icon will not appear).
Note: If you want to determine the size of the image yourself, uncheck this box.

Choose the initial order of the elements in the player

Additional options
Learn more about adding assets, adding feedback, selecting the correct scoring mechanism etc in the section The assesmentQ item bank.