Overview
interpreterQ 2.0 contains the following new features:
Renewed user interface
With v.2.0 the classroom view of interpreterQ gets an updated look and feel. You can read all details about this updated user interface in a separate article :
The renewed user interface of v.2.0
Possibility to continue practicing on an earlier activity
It is now possible for students to continue practicing on an earlier streaming activity, reusing the source recording which was made during that earlier activity. You can read all details about this new functionality in a separate article :
Continue practicing with an earlier recording
Full control over the classroom speakers
A new menu allows you to specify the audio source for the classroom speakers, and adjust volume and balance. The speaker source can be floor audio, teacher PC sound, or a copy of the audio being heard through the teacher headset. With this last option it is for instance possible to let a student talk through the classroom speakers, by selecting the student booth with your channel selector.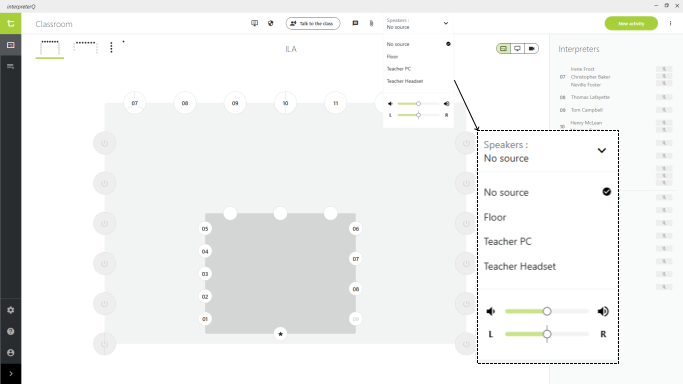 Use channel selector as 1 "stereo" unit or 2 "mono" units
Note: this feature is relevant for administrators only
In a regular interpreterQ training environment, the delegate units are configured as "dual channel" units: each listening unit has 2 channel selectors, 1 for the left ear and 1 for the right ear. From interpreterQ v.2 on, it is possible to reconfigure the delegate units to be used as 2 independent "mono" units. In that case, connect 2 headphones to the dual-delegate unit. The left channel selector will control the channel selection of the left headset (providing the same audio in both ears), while the right channel selector controls the channel playback in the right headset (again with mono sound in both ears).
Thanks to this extra configuration option, the training environment can be converted into a "regular" conference environment, offering twice the number of delegate seats compared to the "stereo enabled" training environment.
You can use the ERS Configurator to choose between stereo and mono configuration :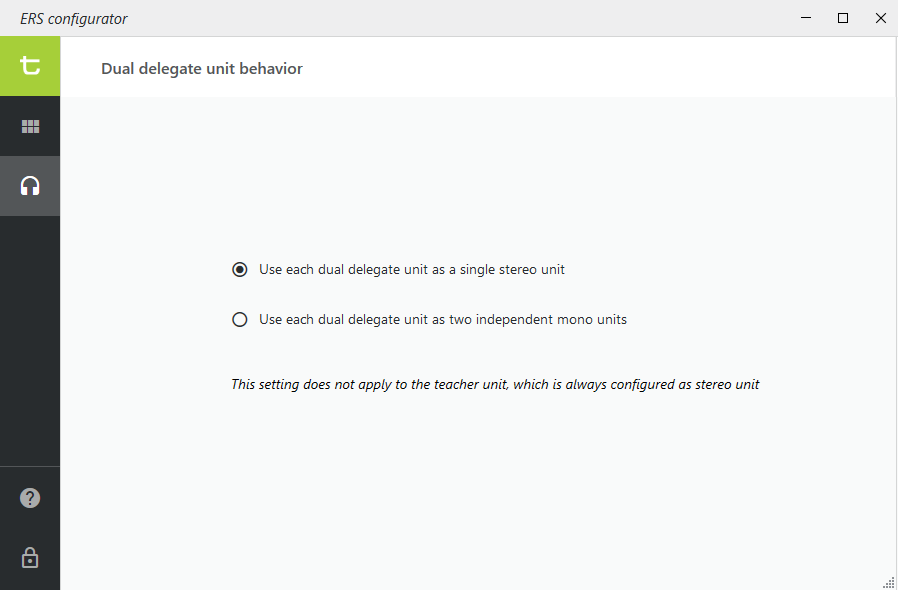 Important remark :
This option is only available when using the Confidea Flex delegate units with dual delegate license, since only these units provide 2 separate headset jacks.