Background
Subtitles can be added to any sound or video file. They can be added by the teacher, as additional textual aids for the student, or by the students, in a subtitling exercise for example.
A subtitle begins at the start of a blue (student) or red (teacher) zone (indicated below), and disappears at the end of it. The text 'Comment allez-vous?' belongs to the third subtitle added in this file. It only appears when this file is playing within that subtitle zone.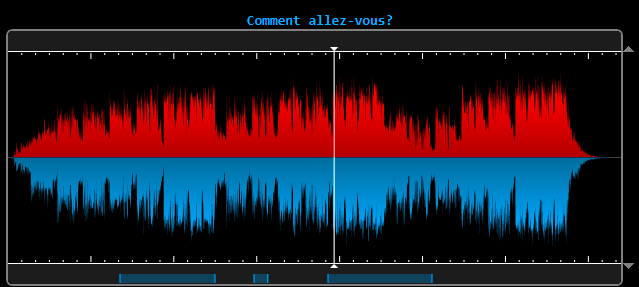 Procedure
Proceed as follows to add a new subtitle:
Double-click the position in the subtitle bar (indicated in red) where you want the subtitle to appear.
Result: The Add a new subtitle dialog box appears. 
Enter the text for the subtitle and click Ok.
Result: A blue or red zone with a duration of 5 seconds appears in the subtitle bar.