Background
Pairing allows students to speak to each other in groups of 2, with or without recording.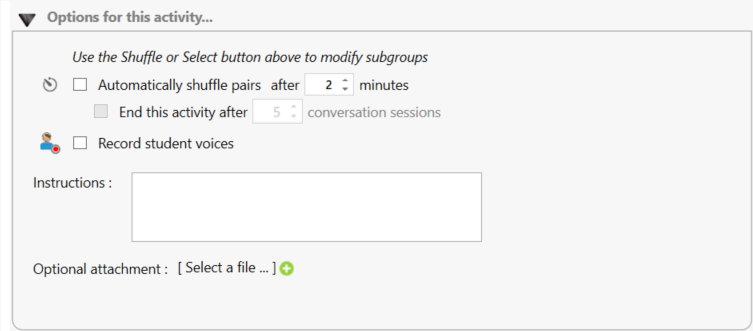 Procedure
Under Activities, select Pairing.
Set the activity to your needs in Options for this activity, add instructions and/or add an attachment.

Tip: You can add the script of a dialogue for the students to perform while they are paired.

Reshuffle the groups by clicking Shuffle.
Go to Participants and groups  to manually pair the students by dragging and dropping their name.

Tip: Students are paired randomly.
In case of an uneven number, there will be one group of three students.

Once all students are ready click Start activity .

Select Monitor  to listen in on a pair.
Select Intercom  to talk to that pair.
Select Microphone  to talk to all students at once.

Click Stop activity  when the activity is over.